Thermo-Anemometer – Kimo Type LV 110
Februari 20, 2019
Mikroskop Biologi Binocular/Trinocular Type BIO2
Februari 22, 2019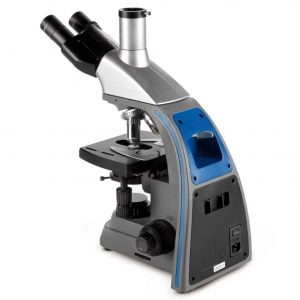 Produk: Mikroskop Biologi Laboratorium
Merek: BEL Engineering
Tipe: Solaris Binocular/Trinocular
Negara: Italia
Seri mikroskop SOLARIS buatan BEL Enginering ini menggabungkan pengalaman dan desain dalam satu solusi. Microscope biologis ini tersusun Plan-achromatic, Koehler illuminator, eyepieces Extra Widefield, lima kali lipat nosepiece miring ke dalam, dan LED putih hangat berintensitas tinggi untuk mendapatkan warna yang sangat andal atau lampu halogen 30W untuk intensitas maksimum. Mikroskop biologis SOLARIS memiliki sistem optik infinity untuk kinerja optik terbaik. Semua fitur ini membuat Mikroskop ini cocok untuk penelitian, penggunaan laboratorium, dan operasi bidang medis.
Optical system
Infinity corrected optics system
Illumination
Built-in transmitted Koehler illumination with field diaphragm.
6V 30W Halogen bulb or High intensity LED (Warm white).
Adjustable Intensity
Eyepieces
Extra Wide field WF10x/22mm
Objectives
PLAN ACHROMATIC 4x/0.1; 10x/0.25; 40x/0.65; 100x/1.25 (oil immersion)
Focusing
Macrometric and micrometric coaxial knobs on both sides (0,002mm). Upper limit excursion adjustment. Torque adjustment on coarse focus knob
Revolving nosepiece
Reversed quintuple nosepiece, rotating and locking at every objective.
Observation tube
Type
Binocular
Trinocular
Tube inclination
30° tilted, 360° rotable
Interpupillary distance adjustment
48-75mm, dioptric difference adjustment ± 5mm
Light path selector
100% – 0%  or  0% – 100%
Stage
193x155mm. Excursion XY: 75x50mm (division 0,1mm). Coaxial knobs on right side.
Condenser
Abbe condenser, N.A. 1,25. Equipped with diaphragm and filter seat. Height and centering are adjustable.
Phase contrast kit
Dark field
Micrometric slide 0.01mm
Micrometric eyepiece 10x
Polarization kit (analyzer+polarizer)
20x Plan achromatic objective
60x Plan achromatic objective
Eurekam / Eurekam PRO digital cameras
Protection cover
Oil bottle
User manual
Harga: (kontak kami)