Isokinetic Sampler Train Method 5 (IST-M5)
Juni 7, 2017
Non Isokinetic Sampler
Juni 7, 2017
Velocity / kecepatan atau laju alir cerobong dan volumetrik udara stack/cerobong
Berat jenis molekul gas pada cerobong/stack
Kadar air pada cerobong (Customized)
Total partikulat pada cerobong
ISO 9096 ; Pengukuran konsentrasi debu pada cerobong dengan konsentrasi gas dari cerobong
USEPA method 17; Pengukuran polutan debu dari sumber emisi sumber tidak bergerak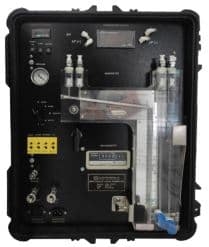 Mini stack isokinetic sampling digunakan untuk menangkap gas polutan dari cerobong seperti halides, ammonia, serta hidrogen sulfide.
MST-17 menggunakan absorben tertentu yang digunakan untuk menangkap gas polutan yang berasal dari pembakaran pada cerobong asap. Sifat gas yang homogen, maka pengambilan sampling mengikuti pengambilan sampling traverse point sesuai pada metode isokinetik.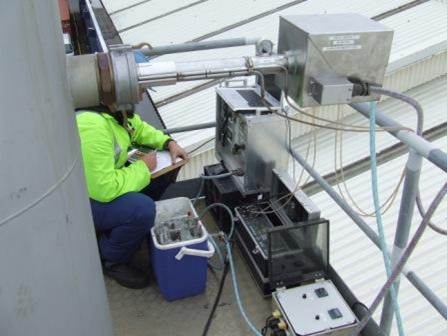 Brand: CBI-Tech
Type: MST-17
Suction Pump:
Pump : KNF VAC, 15 Lpm
Diaphragm Vacuum Pump : Free flow 15 lpm, ryton head, EPDM Diaphragm and vales 230v
Gas Meter:
Qmax : 2.5 m3/h
Qmin : 0.016 m3/h
Sensitive flow rate : 0.003 m3/h
Pmax : 10 kPa
Max index vol : 9999 m3
Nozel:
Nozel Set : Stainless Steel
Size : 4, 6, 8, 10, 12, 14, and 16 mm
Including : Three 5/8 inch tube nuts
Probe:
Linear Glass 36″, 8 mm
Pyrex liner with 12/5 Ball Joint
Pitot type S Tube:
Pitot Tips Extend, SFA-47 SS
Offset Replacement Pitot Tip 3/8″ SS Extended for Use with method 5 Nozzle and SFA-47
Filter:
Stainless Steel Adapter Filter Assembly 47mm, 5/8TU
Method 17 SS in-Stack Filter unit, 5/8″ tube union
Uses 47 mm diameter Filter Element
Impinger Set:
Glass Impinger 25 mm (10 pcs)
Includes : Stainless Steel Clamp adaptor and Box hold for impinger
Pipe Probe:
Stainless Steel Sheath Mini Probe Heated
3/4 " Diameter
36 inch Long
Stainless Steel pipe probe 5/8″ x 150 mm (1 pcs)
Stainless steel pipe probe 3/8″ x 150 mm (1 pcs)
Heater:
In Heater probe 220 VAC, 0.9 meters with cables electical plug
Complete Unit:
Display, TC, PNL, LED 220V
10 feet Flexible Thermocouple Extention
Controller Novus Temp RED LED
Connector Ungrout 12/5 Sockets
Manometer Molded plastic range 0-80 mm red oil 826 sp. gr.
Swith TC 7 Channel
Gage minihelic, 0 – 100 mm H2O
Quick Connect Bulkead 1/4″ to 1/4″ tube union female SS
Stainless steel tube union 3/8″
Flowmeter 1-20 liters with valve
Glass Fiber Filter Paper Diameter 47 mm (100 sheet/box)
Carrying Case
Untuk harga: hubungi kami melalui kontak yang tersedia pada website ini.